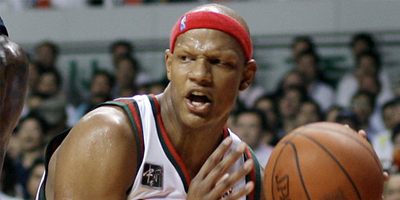 Last season, with the Milwaukee Bucks Charlie Villanueva aka @CV31 got in a wittle trouble for sending out a tweet at halftime of a game about picking up his performance, tweeting "In da locker room, snuck to post my twitt. We're playing the Celtics, tie ball game at da half. Coach wants more toughness. I gotta step up".
Now that Charlie V is a Piston, in an interview with SI.com he was asked if he'll be doing the same thing with his new team.
"I haven't talked to coach (John Kuester) about that," Villanueva said, laughing. "But (Pistons president) Joe Dumars is all for it. He gave me his blessing."
If the Pistons are winning, I'm sure Joe Dumars will tell @CV31 tweet from the sidelines, but if the Pistons suck ain't nobody gettin' deh tweet on.
On a separate but charitable note, Villanueva recently lost a follow me contest against Chris Bosh aka @chrisBosh to accumulate 50,000 Twitter followers first, but in the end some needy kids ended up winning anyways.
"When I hit a little over 46,000 followers, I said for every follower I get after that, I'll donate a new pair of shoes to needy children," Villanueva told the site. "That's 3,172 happy kids, to be exact."
Good lookin' out @CV31!
To follow your favorite player on Twitter, check out my gigantic list of Every NBA on Twitter and follow me @hoopedup.
Via Detroit Free Press