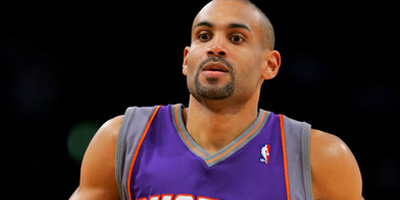 I really can't recall a free agent class that had so many guys over the age of 35 in demand like this one. Enter Grant Hill and the Knicks in discussion.
Hill, who on Sunday met with Doc Rivers in Orlando about joining the Celtics, said he is "very serious" about the Knicks. "I've always been a fan of the Knicks and the city," Hill told reporters during his visit at the Garden Monday. "Obviously, they've gone through a lot the last few years, but I'm a big fan of Donnie Walsh and Mike D'Antoni, so I'm definitely interested. I'm just taking it all in."
Grant Hill, will be 37 this year when the season opens he and played for D'Antoni in Phoenix during the 2007-08 season, but if the Knicks offer him anything over a one year contract have a pair of Bad Idea Jeans shipped to Donnie Walsh asap. He looks like a 38 x 40.
Via Newsday