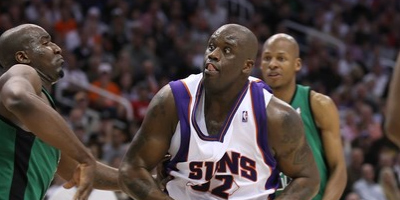 Oh my damn! The Cavs must really mean business because they have pulled of a Shaq size trade on the eve of the NBA draft by acquiring Shaquille O'Neal to give their front line some extra pep.
The Cleveland Cavaliers and the Phoenix Suns have come to an agreement on a blockbuster trade that sends Shaquille O'Neal to Cleveland to team with LeBron James, according to sources.

The deal has been agreed to in principle and is expected to be finalized Thursday, according to sources.

Cleveland will send Ben Wallace and Sasha Pavlovic to Phoenix for the future Hall of Famer. Sources said the Suns will also receive the 46th pick in Thursday's NBA draft and $500,000.
I kinda liked a scenario where Vince Carter or Antawn Jamison landed in Cleveland a tad more, but getting Shaq if he can stay healthy the entire year will make Cleveland pretttttttty, pretttttttty, prettttttty, pretty good. I won't say this trade will send the Cavs over the top, because I thought LeBron James would be wearing Kobe Bryant's fourth ring. But the eastern semis should be a lock at the very least with this team.
In LA with Kobe, it was a Batman & Robin thing with Shaq. In Miami with D-Wade it was a Flash & Superman thing. In Cleveland, with LeBron James it's an Ohio Untouchables thing, this Cavs team is gonna be good. After seeing this trade go down, opening day of the 09-10 season can't come fast enough.
Via ESPN