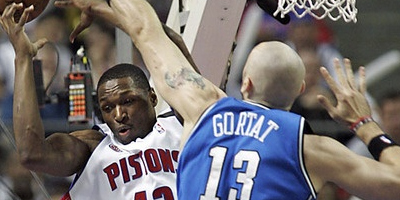 Marcin Gortat has raised a lot of eyebrows this year with his play as a back up to Dwight Howard and Donnie Walsh and the Knicks like what they see too.
"Though the Knicks likely will take a combo-type guard in the June 25 NBA Draft, Knicks team president Donnie Walsh will eye a center with his $5 million mid-level exception during free agency, and Orlando's 7-foot backup Marcin Gortat is very high on his list. The Knicks had no interior defensive presence, and that's Gortat's strength. […] (The Knicks were last in blocked shots the past two years).

The Polish big man originally was drafted by coach Mike D'Antoni's Suns in the second round of 2005, but they traded his rights."
I'm no GM, but I'm thinking that a great way to save $5 million towards the LeBron James fund and to get a quality center is to get Eddy Curry to drop weight and let him understand that rebounding and blocking shots is kinda easy when you're 7'0″. Â I mean since you're paying him anyway but like I said, I'm no GM.
Via New York Post