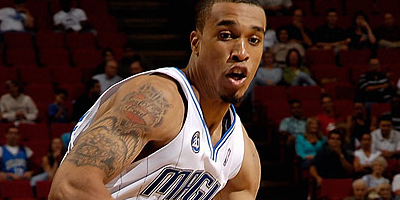 Tonight's Magic vs. Celtics game should be a dooze, and streaky Courtney Lee will likely get the start.
Looking for more backcourt production, the Magic are expected to return rookie shooting guard Courtney Lee to his starting role for Game 5 in Boston tonight. Lee became the starter in the second half of the season, and stayed one until he suffered a fractured sinus cavity in Game 5 of Orlando's first-round series against Philadelphia. After missing three games, Lee was used in a reserve role in Games 3 and 4 against the Celtics.
Just watch out for those D12 elbows young man!
Via Boston Globe