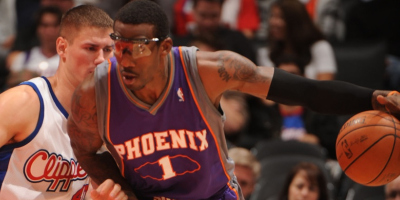 Suns GM Steve Kerr will, be dismantling the Phoenix Suns in the very near future (or at least he better be). And the name that has popped up the most in trade talk is Amare Stoudemire. 
According to league sources, the Bulls are one of several teams engaged in discussions about Amare Stoudemire. AnyBulls package would include the expiring $7.1 million contract of Drew Gooden. Two league sources said the Suns also are most intrigued by forward Tyrus Thomas, and his play on the recent trip explains why. Thomas averaged 14.7 points, 9.7 rebounds and 1.85 blocks with five double-doubles and missed a sixth by one rebound. He even served as one of theBulls' primary offensive options down the stretch in Dallas, getting more touches than Luol Deng.
The Suns have found out the hard way, that change for the sake of change isn't always a good thing. The minute Marion was on the move it was over for the Suns and now they might as well fully commit to the Steve Kerr idea of the Phoenix Suns.
As boring as that might end up looking.
Via Chicago Tribune