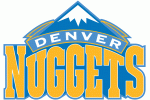 Carmelo Anthony scored 21 points and had a season-high nine assists despite fracturing his right hand Monday night in the Denver Nuggets' 135-115 win over the Indiana Pacers.
Anthony injured his hand when the ball was slapped away early in the third quarter. He continued playing but frequently grabbed at his hand. He had the Nuggets' trainer check it out a few times when play stopped and then left for good late in the fourth quarter. The team said it didn't know how much time he would miss. He is scheduled to see a specialist today.
"It's sore and stiff right now," Anthony said after the game, adding that his hand was numb for most of the second half.