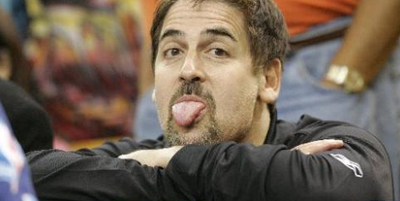 The Mavericks fall from the NBA elite is the least of Dallas owner Mark Cubans worries right now, as today he was charged with insider trading by the SEC. Cuban has been a prolific risk taker as an NBA owner and dot-com millionaire but, just how far does his thirst for risk stretch?
According to the press relase below, things just got real deep in Dallas!
"Federal regulators on Monday charged Dallas Mavericks owner Mark Cuban with insider trading for allegedly using confidential information on a stock sale to avoid more than $750,000 in losses.
Cuban disputed the allegations by the Securities and Exchange Commission and said he would contest them.
The SEC filed a civil lawsuit against Cuban in federal court in Dallas. The agency alleged that in June 2004, Cuban was invited to get in on the coming stock offering by Mamma.com Inc. after he agreed to keep the information private.
Cuban owned 6.3 percent of Mamma.com's stock at that time and was the largest known shareholder in the search engine company, according to the SEC. The agency said Cuban knew the shares would be sold below the current market price, and a few hours after receiving the information, he told his broker to sell all 600,000 shares before the public announcement of the offering.
By selling when he did, Cuban avoided losses exceeding $750,000, the SEC said in its lawsuit. Montreal-based Mamma.com changed its name to Copernic Inc. in June 2007."