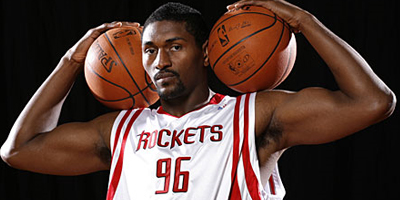 A team-by-team preview of all 30 NBA teams heading into the 2008 – 2009 season, Hooped Up style. Â 
Houston Rockets
The Rockets made the biggest off season splash when they acquired defensive superstar Ron Artest. Â Paired with Tracy Mcgrady they will be one of the most impressive wing combos in the league. Yao Ming is healthy after a little time away…before the Olympics. Rafer Alston beat a DWI and loves vodka and cranberry and Luis Scola should be able to improve on his rookie campaign.
If defense wins championships then this would be the team, but can Rick Adelman control this group and make them reach their full potential?
Projected Starters:Â PGÂ – Rafer Alston /Â SGÂ – Tracy McGrady /Â SFÂ – Ron Artest /Â PFÂ – Luis Scola /Â CÂ – Yao Ming
Additions:Â Joey Dorsey, Maarty Leunen,Ron Artest, Brent Barry , D.J. Strawberry, Von Wafer, Marcus Campbell, Frederic Weis
Losses:Â Bobby Jackson, Donte Greene, Steve Novak, Patrick Ewing Jr., Sean Singletary, Dikembe Mutombo
Projected Wins:Â 58+
Team Theme Song: Â Heltah Skeltah – Operation Lock Down
Ron Artest is ground patrol and Yao Ming is air patrol.  The Rockets defense should be on that next level this season. 
Overall
This might be the best defensive ball club in the league with the addition of Ron Artest. Tracy McGrady and Shane Battier should also get credit for their defensive abilities too. Â Yao Ming is a premier player in the league and as long as he stays healthy, a deep playoff run is almost guaranteed. Â The question is with Rafer Alston and his decision making abilities on and off the court. Can he be a more selective shooter and set the table for the collection of stars he has around him? Â When you are considered a bigger distraction than Ron Artest, you got to look yourself in the mirror dude. Â 
With a healthy arrest free squad, the Rockets are ready for a real title run finally!