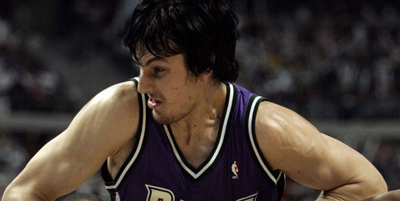 A team-by-team preview of all 30 NBA teams heading into the 2008 – 2009 season, Hooped Up style. Â 
Milwaukee Bucks
The more things change, the more they stay the same. Â The Bucks made a lot of changes this summer and even talked about moving the only star on the team in Micheal Redd, but this squad is still much the same. They hired Scott Skiles who will preach defense, added an impact wing player in Richard Jefferson and handed the reigns to Luc Ridnour after telling Mo Williams good bye in a trade to the Cavaliers. They have perimeter scoring covered but the depth in the front court is shallow and Bogut could use some real help.
Will frustrated Milwaukee fans finally have something to cheer about this year? Â 
Projected Starters: PG – Luc Ridnour / SG – Micheal Redd / SF – Richard Jefferson / PF - Charlie Villanueva / C –  Andrew Bogut
Additions:  Richard Jefferson, Luke Ridnour, Damon Jones, Adrian Griffin, Tyronn Lue, Malik Allen, Francisco Elson, Joe Alexander, Luc Richard Mbah a Moute
Losses:Â Maurice Williams, Desmond Mason, Yi Jianlian, Bobby Simmons, Royal Ivey
Projected Wins:Â 29+
Team Theme Song:Â Â Beenie Man – Who Am I
This team does not have an identity and they need to ask themselves who are we. Zim Zimah!
Overall
Scott Skiles could have this squad playing smarter defensively, Andrew Bogut will continue to improve, Charlie Villanueva will get to showcase his underrated talents and Michael Redd and Richard Jefferson will pair to form one of the best wing combos in the league.  Howev, they still need a calling card to beat other teams, so they can grow on something and find a much needed direction .  If the Bucks were thinking about trading Micheal Redd this summer it's pretty clear they are kinda confused. Who's team is this
The playoffs won't happen but, defense wins games and if they can buy into the philosophy of Scott Skiles they just might find their identity and be better next year.