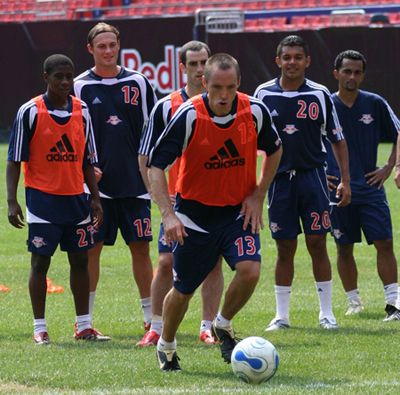 Several NBA players, and some of the best soccer players on the planet — will be playing a soccer game tomorrow afternoon in New York City to raise money for charity.
It's free and open to the public. It will take place at 5:30 p.m. Wednesday at Nike Field in Sara D. Roosevelt Park. The game is just off Chrystie Street (between Rivington and Stanton Streets) south of Houston.
Among those expected to participate are Baron Davis, Jason Kidd, Raja Bell, Leandro Barbosa, Joakim Noah, Thierry Henry, Claudio Reyna, Robbie Fowler, Steve McManaman, Jozy Altidore, Juan Pablo Angel, and Gregg Berhalter.
What Stein's story does not mention, however, is that Marc Stein himself will be playing. He's a die-hard soccer fan who plays regularly.
He has a tactic in mind to look good in such a high-level game: Stay close to the NBA players like Kidd and Davis who did not grow up with the sport.
Davis, however, reportedly wants to get around his inexperience with his feet by playing goalie.
ESPN