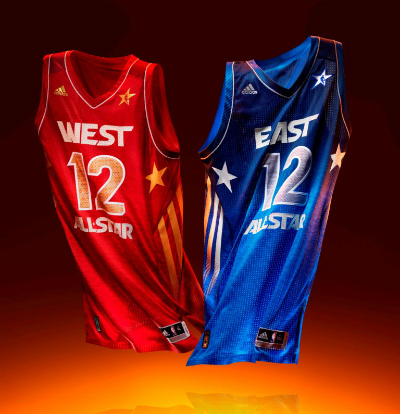 adidas, the official outfitter of the National Basketball Association, today unveiled the new uniform and footwear assortment for the 61st NBA All-Star in Orlando.
The 2012 NBA All-Star uniforms were designed by adidas and inspired by the 20th anniversary of the memorable 1992 NBA All-Star game which was also held in Orlando. Inspired by the Sunshine State and the fun atmosphere of NBA All-Star weekend, adidas NBA All-Star basketball shoes feature bright orange coloring to pay homage to Orlando's Orange County and the state's famous oranges.
The All-Star jerseys feature oversized East and West All-Star block lettering that was inspired by 1992 jerseys. The jackets and jerseys feature dip-dyed hardwood heather pattern inspired by the floor of the
Orlando Arena where the game was held. The tonal blue and red, and three stripes silver and gold accent coloring on the jerseys and short sides will make the uniforms stand out on court. The woven NBA All-Star shorts are inspired by board shorts and also feature a sublimated mesh pattern for high performance and breathability.