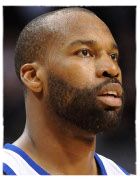 You can tell by the avatar that I use on my Twitter account (@hoopedup), that I think Barn Davis is a pretty funny / rad dude. He's got a fantastic beard, dunks on people then shows them his back wrap and is good at everything he does — including Jenny Craig diets.
Soon, being good at executive producing Emmy award-winning films could be another thing Davis is regarded for too, as his film "Crips and Bloods: Made in America," is up for a best documentary Emmy award . To create the film, Davis put up the money and providing entree into the South Central gang underworld he escaped because of basketball.
"This is very prestigious," Davis said in an interview with The Associated Press. "We've really been able to tackle a subject that's kind of been picked on, but we've been able to tackle it and really shed some light on it from both sides of the spectrum. We want to let people formulate their own opinions about what's going on in this country and in the impoverished communities."
Davis hopes his documentary, sheds light on the root causes of gang life and lets younger generations of kids realize that they have other options. The film is narrated by Academy Award winner Forrest Whitaker and includes interviews with gang members and NFL Hall of Famer Jim Brown — who works with inner-city youngsters. Congrats Boom!