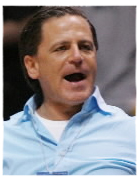 Cavaliers owner Dan Gilbert had nothing but L-O-V-E for LeBron James when he was in Cleveland making him richer. However since LBJ left town and took your interest to watch a Cavs game with him. Ol' Gilly has become a bitter man on every front, even dropping the cost of a LeBron jersey to un-american price according to the Boston Globe.
Two months after "The Decision," every LeBron James Cleveland Cavaliers jersey is sold out on Fathead.com, the company owned by Cavs owner Dan Gilbert. The jerseys were immediately reduced from $99.99 to $17.41, apparently because 1741 was the birth year of Benedict Arnold.
Damn! For those of you unfamiliar with Benedict Arnold, I'll explain. Arnold was a general during the American Revolutionary War who defected to the British Army while he was still a general on the American side who obtained command of the fort at West Point, New York, and plotted unsuccessfully to surrender it to the British.
After the plot was exposed, he entered the British Army as a brigadier general and went on to win 6 NBA titles with the London Heat playing alongside his two buddies.