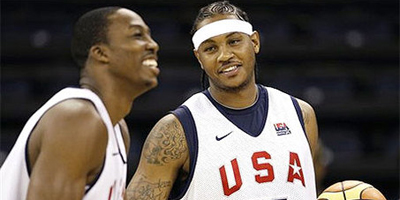 Yup, even more cool news from China. Carmelo Anthony and Dwight Howard are set to make their acting debut in Shanghai which is very, very, very, very, very West of Hollywood. The movie they will appear in is called "Amazing" directed by Kennedy Center Honors winner Hu Xuehua so no Rush Hour 5 jokes please.
The film will be a joint production effort between the league and Xuehua, making the feature flick the first NBA themed motion picture outside of North America. As it turns out, selling your game to a market of a billion people is a good thing. Yes, that's savvy marketing indeed!
The flick will be shot in New York, Beijing ,Shanghai and is scheduled to open next summer. Just around the same time the Knicks will send Isiah Thomas to get Carmelo Anthony to sign with New York if he isn't traded there this summer.