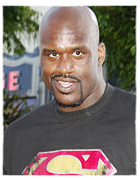 Shaquille O'Neal versus Jim Rome? Well if the big Eco-Diesel (eco because he's wearing green now) has his way. He'll be trading blows with ESPN host Jim Rome live at ESPN studios soon, which already sounds better than "The Decision" or any of the 25/8 coverage of Brett Favre currently happening.
Shortly after Shaq agreed to join the Boston Celtics, he challenged Jim Rome to a fight after a few comments made by the "Rome is Burning" host that negatively compared Shaq to former Lakers teammate Kobe Bryant. Uh-oh!
"You never approached the game with the dedication and discipline of Kobe Bryant," Rome said.
To which Shaq replied via Twitter "Jim Rome, I am happy with my career and the legacy that I have left behind,obviously u r not happy wit yur legacy I 4got u have no legacy," followed up by a fight invited tweet that said "And forget the back and forth jim rome, I challenge u to a boxing match, live at espn studios, show the world if u can bak up the tuff talk."
This ain't Chris Everett. My suggestion to Rome is to duck Shaq like his name is Manny Pacquiao. That is all, I am out.