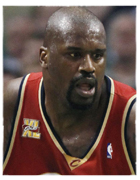 My better half enjoys calling Glen Davis "Baby Shaq" instead of "Big Baby" so she'll be ecstatic to hear that Shaq and Glen Davis will be teammates for the 2010-2011 season in Boston. She'll call this a family reunion I bet.
The team that invented stacking has stacked up once again, adding Shaquille O'Neal to a roster that already includes Ray Allen, Paul Pierce, Rajon Rondo and Kevin Garnett. Out of those players who will get into the Hall of Fame? Everybody, dats who!
Things didn't work out so well for the big fella in his last two NBA stops in Phoenix and most recently Cleveland, but him joining the Celtics that know a thing or two about handing superstars. Seems like a match made in parkay floored heaven. Shaq signed a two-year contract worth about $3 million to join the C's.
I can almost hear the "Miami, tell me how my roster tastes" lyrics already.