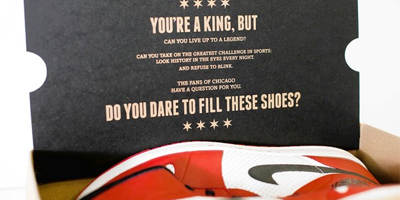 Remember that movie that came out last year called "The Box" with Cameron Diaz, that dude that plays Cyclops in the X-Men movies and Frank Langella? Well, in that movie a strange package arrives on the doorstep of a married couple played by Diaz and Cyclops, who know that opening it will grant them a million dollars and kill someone they don't know.
In a scene straight outta that movie, one minute past midnight at the beginning of the free agency wooing process. The Chicago Bulls had a driver deliver a mysterious box to LeBron that had classic red, white and black Air Jordans inside with the message that read:
"You're a King, but can you take on the greatest challenge in sports. Look history in the eyes every night, and refuse to blink. The fans of Chicago have a question for you. Do you dare to fill these shoes?"
Why don't you tell us what's really on your mind guys? Conceived in the creative labs of the Leo Burnett agency, creative director Patrick Rynell acknowledged that "It was a gutsy idea,"  but figured LeBron has a "good sense of humor" and that "a good in-your-face dare would kind of lighten the mood, and show what Chicago's personality is about."
Word??? **Dave Chappelle voice**
The children in Michael Jordan's family can't even fill the shoes of Air Jordan and they have his genes. They couldn't play a game of Yahtzee without somebody saying, "man, you're a good Yahtzee player but your dad — man could he ever play some Yahtzee. I've never seen such dice rolling under pressure"
The though of somebody adding more pressure to the most important decision LBJ will have to make in his professional life, seems kinda wacky. Why not just say, "Hey LeBron accept less money, be stressed out every night when you look up at our championship banners and become teammates with Joakim Noah public enemy number one in Cleveland".
If Wade joins the Bulls, I can see a strong starting core of Derrick Rose, LeBron James, Dwyane Wade, Joakim Noah shouldering the load of Jordan's shadow, but unless that happens. It'll be no dice on landing "The King". One man's hairline can only manage so much stress alone and LBJ enjoys his mini afro.
In "The Box" pressing the button is the beginning of the end for the pressers involved, and I'm thinking that instead of putting on Air Jordan I's, LBJ will stick to his LeBron VIII's in Cleveland and Cyclops won't have to take a bullet.