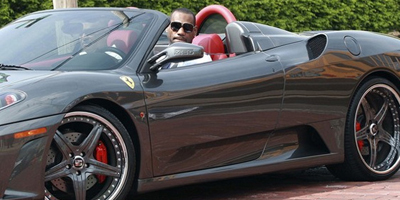 If everything goes as planned. LeBron James will never have to pay for anything ever again, although he'll definitely be rich enough to afford just about anything by the time his free agency tour ends. But if he signs with Chicago, his Ferrari will be living large too son. Car-X Auto Service is offering LeBron free lube jobs for life on his Ferrari F430 Spider (above) if he signs with the Chicago Bulls.
"At the end of the day, we're putting the ball in King James' court," said Brayer. "Do you want support from your team, support from the best basketball fans on the planet, support for your charitable foundation and support for your Ferrari with free oil changes for the rest of your life… Or do you want the Rock 'n' Roll Hall of Fame?"
Dubbed the "King James Version" of oil changes, Car-X is also offering to donate $1 to the charity of LeBron's choice for every premium oil change performed at their Chicago locations through July 15, 2010 and even set up a Facebook page aptly titled "Time For a Change, Chicago" where Bulls fans can plead their digital cases to LeBron to join them in the Windy City.
Oil changes? This is getting ridiculous — ly awesome that is.