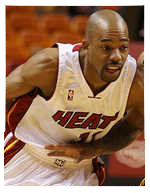 Rafer Alston's future with the Miami Heat is in serious doubt.
The 11th-year point guard has been suspended by the team, which made the announcement about two hours after beating Atlanta on Saturday night. Alston was not at the arena for the game, with the Heat saying he was inactive for personal reasons and coach Erik Spoelstra only saying more details would likely be released Sunday.
"Rafer Alston, while having made contact with the team via text message, has made himself otherwise unavailable to the team. As a result he has been suspended indefinitely," the team said in a release.
Alston could not be reached for comment. He did not immediately respond to an email message.
He played the first six minutes 41 seconds of Miami's win over Golden State on Tuesday, then appeared to be upset when removed from that game. Alston hasn't played since, sitting out all of the Heat victory over the Los Angeles Lakers on Thursday, telling reporters before that game that he had been removed from the starting lineup.