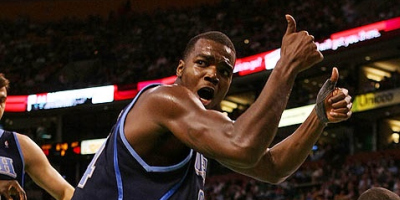 The Utah Jazz are going to hang on to Paul Millsap and will probably be saying goodbye to Carlos Boozer as soon as the right deal comes along.
The Jazz posted on their Web site Thursday evening that they plan to match Portland's offer to Millsap, a restricted free agent. A formal announcement was scheduled for Friday, the last day Utah can match the US$32 million deal that includes US$10.3 million up front.

Millsap averaged 13.5 points and 8.6 rebounds last season, playing mostly as a reserve. He stepped in when starter Carlos Boozer missed 41 games with a knee injury and had a string of 19 straight double-doubles.
Millsap has potential up the ying-yang and with more minutes in a sans Boozer environment, he'll have a real shot at being the Most Improved Player of the Year.
I'm really gonna miss all the Boozer jokes in a dry state.
Via Press Release