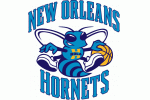 The Hornets lost to the Knicks 103-93, but James Posey couldn't stick around to see it because he was tossed in the fourth quarter after he threw the ball at referee Gary Zielinski.
Zielinski called Posey for a foul on an attempted rebound with 5:46 remaining. Posey grabbed the ball and fired it at Zielinski, standing behind the baseline, and hitting him in the right foot.

Zielinski quickly signaled a technical foul and threw Posey out of the game. Posey called it "a bounce pass that hit his foot that came back to me."

"It goes on a lot at games, guys giving the ball back to the ref, and like I said, if I was to throw it at him, I think I've got better aim than that," Posey said. "It was a bounce pass to him. Unfortunately, he made the call and I guess he had his hands in the air, so that's why he wasn't ready."
A fine is definitely a comin'.
Via USA Today