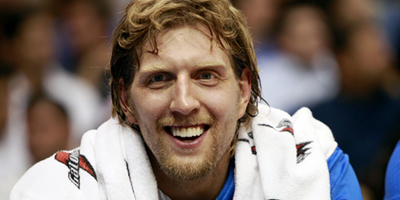 A team-by-team preview of all 30 NBA teams heading into the 2008 – 2009 season, Hooped Up style. Â 
Dallas Mavericks
Once a top team in the league and now just trying to hang on for dear life in the west.  Adding Jason Kidd the the mix for a playoff run was a little desperate and didn't pan out at all.  Josh Howard done lost his mind this summer and Jerry Stackhouse and Erick Dampier have seen better days. They've possibly tinkered themselves out of a playoff spot in the west and this group is aging faster than Mark Cuban cares to acknowledge.  
In his mind this crew is right in the hunt, could he be right?
Projected Starters: PG – Jason Kidd / SG – Jerry Stackhouse / SF – Josh Howard / PF - Dirk Nowitzki / C – Erick Dampier
Additions:Â Shan Foster, DeSagana Diop, Gerald Green, James Singleton, Keith McLeod, Cheyne Gadson, JaJuan Smith, Charles Rhodes
Losses: Malik Allen, Jamaal Magloire, Tyronn Lue, Juwan Howard 
Projected Wins:Â 41+
Team Theme Song: Â Bruce Springsteen – Glory Days
The best days of this team is behind them and the boss Mark Cuban will be reminiscing on the glory days all season long. 
Overall
With a full season under his belt will the Mavs will Kidd be better? This could very well be his last NBA campaign and things might turn ugly. Dirk Nowitzki won a MVP trophy two years ago but, his elite status is still in question. Jason Terry will provide a nice lift of the bench but, they might need him to start over Stackhouse and Josh Howard is all over the place and the first chance Mark Cuban has to deal the troubled forward he will.
This season will be painful for Mavericks fans to watch and Mark Cuban will have to tell himself the truth about his ball club finally.