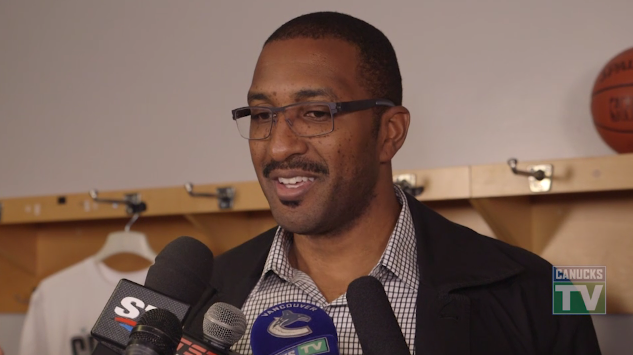 While the Memphis Grizzlies were busy getting creamed by 50 in Oakland. One of the original Grizzlies from the expansion days Shareef Abdur-Rahim was in Vancouver to celebrate "Grizzlies Night" at a hockey game. Prior to dropping the puck before the Canucks took on the Flyers. Abdur-Rahim met with the media to discuss the good old days when Van City had a basketball team.
"The people here in Vancouver, in Canada, who kind of embraced me as a really young kid that didn't know much outside of the southeast United States. I have great memories."
He also expressed some of his regrets with the franchise that was moved to Memphis in 2001.
"I wish we could have done better. Especially at the time being as young as I was, you internalize that stuff a lot and you take it personally. I think the city was such a great city. The people here loved basketball, they loved us. I wish it would have been better in that way."
As always, he was a class act.