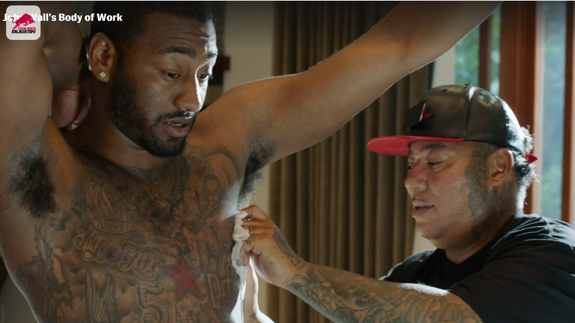 Washington Wizards point guard John Wall sat down with Red Bulls to talk about some of his favorite tattoos and the meaning behind a few of them. After getting his first tattoo of the skyline of his hometown Raleigh, North Carolina with hands reaching out to a basketball and doves flying away, Wall was hooked.
"I always wanted one and he [ Randy Harris, tattoo artist] made me get in the chair first before anybody," says Wall. "The first one took five hours, but I couldn't punk out and shy away from it."
Here's more tattoo details from Wall's interview.
Ribs: A Valley of Shadows
Wall's latest tattoo features a picture of Jesus Christ and Wall walking up a valley of shadows. "It goes back to my tattoo of Psalm 23:4 saying even though you're walking through a valley of death you will fear no evil," says Wall. "So it's like me walking up a Valley of Shadows." Check out the ink process in the video below.
Left Pec: John and his Dad
His name was John Carroll Wall Sr. and he went to jail for robbery with a dangerous weapon when Wall Jr. was one. For the next seven years, Wall visited his dad at the penitentiary nearly every Sunday. By the time his father was released when Wall was 9, Wall Sr. was terminally ill with liver cancer and passed away soon after.
Right Pec: The Words "Momma's Boy"
After his dad died, Wall's mother, Frances Pulley, raised Wall and steered him to take basketball seriously. Angry as a child when his dad passed away, Wall entered a period of transgressions and it seemed he was destined for a tough life. But his mother sacrificed everything, including paying the electric bills, so that her son could play in tournaments and succeed.
Right Shoulder: 3 A Life
This mark symbolizes his friendship with former Kentucky teammates and current NBA players DeMarcus Cousins and Eric Bledsoe. Friendship and loyalty is a common theme when John talks about his rise from Raleigh to the NBA. Wall has kept a tight circle of friends around him who have been loyal since before he became the number one high school basketball player in the country. They call themselves "5-Deep" and it includes Reggie Jackson, E.J. (Eric Grissett, Jr.), Alban "Bane" Okafor and Ty Williams.
H/N Red Bull