The Atlanta Hawks have officially unveiled their new future ready uniforms which features new branding, fun patterns, asymmetrical design, bold colors and the ability to mix and match their home, away and alternate kits. The Hawks will begin wearing their new look in the 2015-16 season.
"Our city is uniquely situated at the epicenter of fashion, pop culture and Southern hip hop. That inventive spirit is evident in these innovative design concepts which mesh patterns, colors and unique combinations from the jerseys and shorts right down to the socks and laces."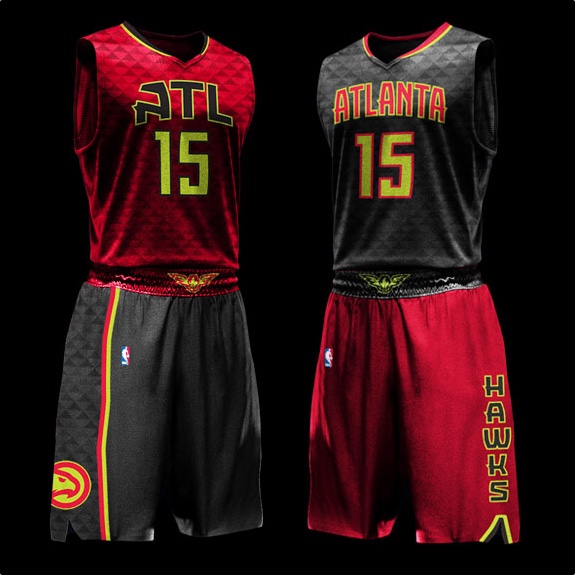 Pattern
The triangulated feather pattern is a foundational design element which draws inspiration from a hawk's breast. It is prominently integrated into the jersey as well as the short.
Asymmetry
Another first is the introduction of an asymmetrical short which displays the feather pattern down one leg and team name down the other.
Bold Color
Volt Green and Georgia Granite Gray also mark NBA firsts. These, along with Torch Red form a bold and unique color palette.
Head-to-Toe
This also marks the first time that socks, shoes and laces were built as part of the overall uniform kit – delivering a true head-to-toe design approach.
Mix and Match
The uniform kit also allows for the team to mix and match jerseys, shorts and socks.