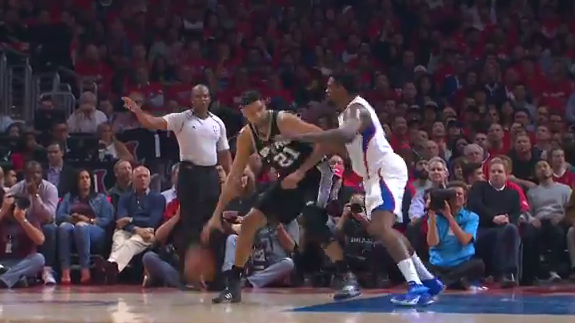 Once again San Antonio Spurs rock Tim Duncan sent Father Time to his room and dominated another playoff game. Torching the Clippers for 28 points and 11 rebounds in a thrilling overtime win to tie the series at one a piece.
"He continues to amaze me." This from a coach, Gregg Popovich, who has been with Duncan for nearly two full decades. The Spurs needed everything he had, and Duncan delivered once again with the 100th playoff double-double of his career — more than Kevin Garnett, Pau Gasol and Dwight Howard combined — just three days removed from his 39th birthday. He made 10 of his first 11 shots and 14 of 23 overall, with his last make putting the Spurs ahead for good midway through overtime."
Early in the first half Duncan became the 5th player in NBA postseason history to score 5,000 points.
BTW, his girlfriend still digs his game.
Past his prime? Okay… Baby's playing better than the kiddos out there.

— Vanessa Macias (@VanessaLMacias) April 23, 2015
And he forgot how old and awesome he is.
"Tim, I know your birthday is Saturday." Tim: "Is it really?"

— ESPN SA (@ESPN_SA) April 23, 2015
H/N SA Express