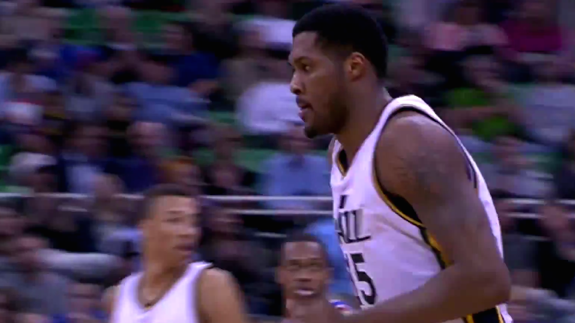 Utah Jazz forward Derrick Favors continued his downhill play, racking up a monster 29 points on 11-17 shooting and 12 rebounds to beat the Knicks.
"He's been excellent for us," said Utah's leading scorer, small forward Gordon Hayward, who sat out Tuesday's game with a lower back strain after starting the team's first 62 games of the season. "Especially since he's been able to move to the four (power forward position), he's been great defensively, provides another shot-blocker at the rim, a rim protector.
"And then the way he's been (playing) in the fourth quarter, making shots, hitting that mid-range jump shot has really opened up the floor for all of us. When he's hitting that shot, we're really tough to guard because they have to respect that shot and it opens up the 3s, it opens up the drives, and he's been playing really well for us — really well."
Since the All-Star break, Favors has had a productive stretch, averaging 17.7 points and 8.8 rebounds per game including four double-doubles.
H/N Desert News