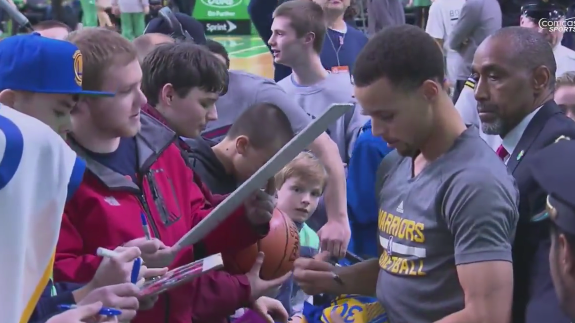 Down by 26 points heading into halftime, the Golden State Warriors looked finished, then Stephen Curry happened. With a barrage of accurate shots, Curry somehow pulled his squad ahead of the Celtics for good, with 37 points of his own for a 106-101 win in Boston.
"We've been a resilient team all year when it comes to handling losses and coming back, but also keeping games interesting even if it doesn't go our way early," Curry said. "It was just a hard-fought win, man. You can't really explain it. We just tried to do whatever we could do to give ourselves a chance, and the rest was history."
"Steph was Steph," Kerr said. "What he does skill-wise is shocking, but the poise and the leadership he showed were the things that made me the happiest tonight."
Curry was 5-8 from the arc on the night and recorded his 12th game of at least 30 points this season.
H/N SF Gate