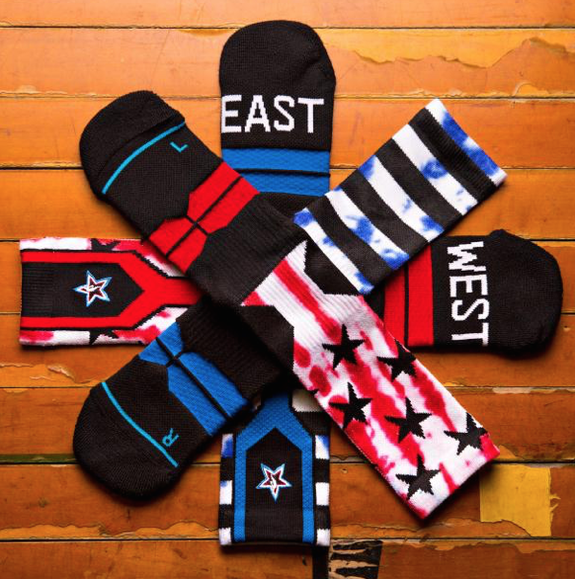 Stance Socks and the NBA have joined up be the official sock provider for the 2015 NBA All-Star Game. When Madison Square Garden host the annual classic on February 15, all players from the East and West will be wearing the decorative socks.
"The best sock minds on the planet have been intensely focused on creating an unrivaled basketball sock," said Clarke Miyasaki, EVP of Business Development at Stance. "We've paired the technical geniuses behind this sock with the creative sock artistry that Stance pioneered, and we hope the world's greatest basketball players will be as happy as we are with the socks."
Masterfully blending art and science, the limited-edition Stance Fusion Basketball socks feature distinct blue East and red West tie-dye designs to complement each conference's All-Star uniform, while the innovative sock technology ensures optimal fit and feel for the league's biggest stars. Stance's Triniti Technology keys in on moisture management utilizing a mesh venting system, traction control with strategically-placed grippers on the footbed and targeted cushioning in the areas of the foot that take the most impact.
"Our goal is to always provide our players with the best apparel and equipment to play the game," said Lisa Piken Koper, NBA VP of Licensing. "Stance continues to focus on developing products that maximize oncourt performance and the NBA All-Star design is a key example of their commitment to producing innovative products."
NBA fans can now purchase NBA All-Star socks for $25 at Stance.com, NBAStore.com and various Stance retailers worldwide.