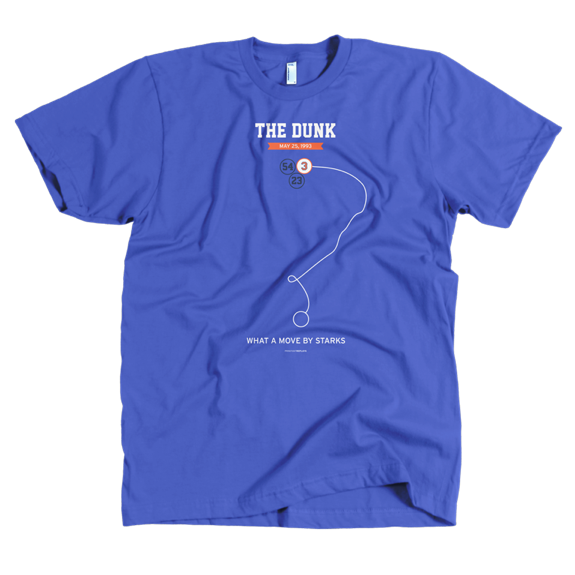 Artist Hunter Mize does a better job describing this tee honoring John Starks and his massive dunk on the Bulls in 1993 during the playoffs which is now available at Rally Sports, so I'll let him.
"The memory will forever be in the minds of Knicks fans. The moment transcended a city and it was one of the greatest offensive moves pulled off under the lights of Madison Square Garden.
In Game 2 of the 1993 NBA Eastern Conference Finals, the New York Knicks were up against the defending champion Chicago Bulls in a fight for a bid to the next round. The game was closely contested throughout, and the Knicks had a mere 91-88 lead heading into the waning minutes. The Bulls had shown in previous playoff games that they had the ability to comeback despite facing deficits, so the Knicks had to make sure they executed properly down the stretch.
The Knicks designed a play where Starks would receive a screen at the top of the key, but he decided to avoid the pick and drive baseline instead. As Starks attacked the basket he was confronted with a myriad of Bulls defenders, but the little man did not let that faze him. Despite the outstretched arms of Horace Grant and Michael Jordan, Starks skied up to the rafters and dunked it right over the opponents.
The masterpiece of May 25th, 1993 is to this day one of the most remembered moves in NBA history. Knicks fans are constantly reminded of the play pulled of by Starks, and it is simply referred to as "The Dunk."