The Rajon Rondo deal to the Dallas Mavericks is in the books and here is what he and owner Mark Cuban had to say about it. When the four time all-star and 2008 NBA Champion was introduced to the media for the first time in Big D. Per ESPN:
"There's one goal that you have in mind, and I'm dying to get another ring again," Rondo said in his introductory news conference after joining the Dallas Mavericks in a blockbuster trade. "I want another parade."
"It was very challenging these last couple years," Rondo said. "I've been fortunate enough to play for future Hall of Famers and great teams and a great coach in Doc Rivers. And to get back to that situation and be able to play with future Hall of Famers and a great coach and a team that's ready to contend for a title, I'm fired up. I'm ready to go."
"We're past the days of rent-a-player," Cuban said, calling Rondo the definition of a franchise cornerstone. "We want him to be here for a long time and we want to earn his desire to stay here. We have to convince him that he wants to be here because we know we'll want him. We're going to do everything possible to keep him here forever."
Rondo will likely make his Mavericks debut tonight against the San Antonio Spurs.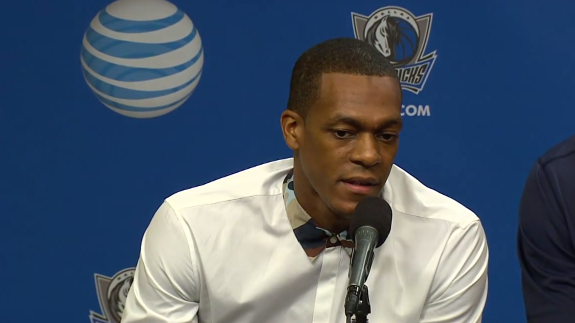 "We're past the days of rent-a-player," Cuban said, calling Rondo the definition of a franchise cornerstone. "We want him to be here for a long time and we want to earn his desire to stay here. We have to convince him that he wants to be here because we know we'll want him. We're going to do everything possible to keep him here forever."