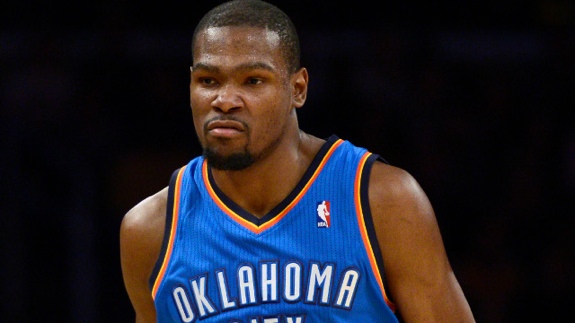 2013-14 Kia NBA Most Valuable Player and winner of four scoring titles in five seasons Kevin Durant highlights the 2013-14 All-NBA First Team.
Joining Durant on the First Team is LeBron James of the Miami Heat, Chris Paul of the Los Angeles Clippers, James Harden of the Houston Rockets and Joakim Noah of the Chicago Bulls. Harden and Noah captured First Team honors for the first time in their careers. Durant was the lone unanimous selection, appearing on all 125 ballots as a First-Team pick while LeBron James of the Miami Heat garnered 124 First-Team votes.
The All-NBA Second Team consists of guards Tony Parker of the San Antonio Spurs and Stephen Curry of the Golden State Warriors, forwards Blake Griffin of the Clippers and Kevin Love of the Minnesota Timberwolves and center Dwight Howard of the Rockets.
The All-NBA Third Team includes the Portland Trail Blazers' Damian Lillard and the Phoenix Suns' Goran Dragic at guard, the Indiana Pacers' Paul George and the Trail Blazers' LaMarcus Aldridge at forward and the Charlotte Hornets' Al Jefferson at center.
H/N NBA