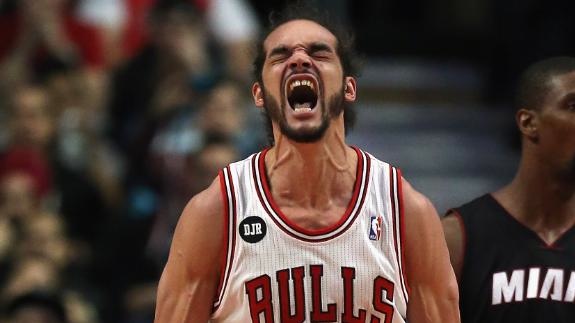 Chicago Bulls center Joakim Noah, winner of the 2013-14 Kia NBA Defensive Player of the Year Award, headlines the 2013-14 NBA All-Defensive First Team.
Paul George of the Indiana Pacers, guard Chris Paul of the Los Angeles Clippers, forward Serge Ibaka of the Oklahoma City Thunder and guard/forward Andre Iguodala of the Golden State Warriors were also selected to the first team.
The NBA All-Defensive Second Team consists of forward LeBron James of the Miami Heat, guard Patrick Beverley of the Houston Rockets, guard Jimmy Butler of the Bulls, forward Kawhi Leonard of the San Antonio Spurs and Roy Hibbert of the Indiana Pacers.
H/N NBA