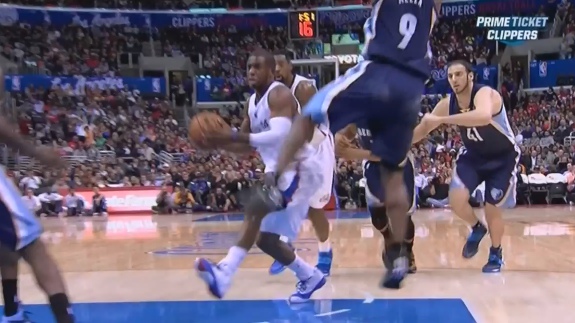 It's early but, Chris Paul is having the kind of season that could end with an MVP trophy. Double and triple teams can't stop him, so the next best thing is probably kicking him in the face. So Tony Allen tried it and got ejected for his experimental defensive tactics.
"I know Tony didn't do it on purpose," Paul said. "I went mute for a while, just because I hate being hit on the lip more than anything. I just hate having a busted lip. But I know it wasn't intentional, and I didn't expect him to get ejected. I think he thought I was about to throw the ball to the corner, so that's a natural instinct."
1st thing 1st apologies 2 @CP3 accidental kick…..

— Tony Allen (@aa000G9) November 19, 2013
Maybe it was an accident, but the Grizzlies did beat the Clippers to hand them their first lost of the season at home and CP3 didn't have one of his better nights. So in conclusion, in 100% of the games that Cp3 gets kicked in the face, the Clippers lose. Yup, that's what you call advanced analytics folks.