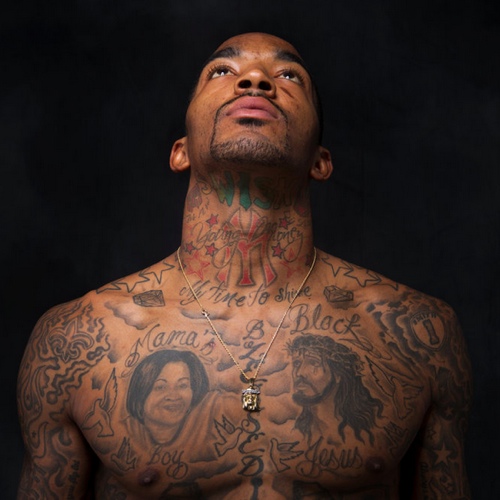 Growing cult figure and the Knicks alternative saviour JR Smith recently did an interview with the New York Times about his many tattoos and and here are my eight favorite answers from Earl.
Q. What was the first tattoo?
A. A picture of me dunking. I was 15. Me and my sister both got one.
Q. How many did you have before you think you lost count?
A. It was around 70-something.

Q. How many tattoo parlors do you think you have been in?
A. Probably a thousand. I've been to so many where I didn't get a tattoo. Sometimes I watch or go in to see what's new. It really depends on how I feel.
Q. Were you always fascinated with tattoos? When did it start?
A. I actually hated tattoos. I told myself I would never get like this.
Q. What was the best reaction you had from someone about a particular tattoo?
A. My mom cried when she saw her face on my chest.
Q. What does the "Through the Fire" tattoo mean?
A. I've been through hell.
Q. What are the dates on your wrists?
A. They are my grandparents' births and deaths.
Q. Do you think you have a bigger, or different, fan base compared with most N.B.A. players' because of your tattoos?
A. Yeah, I think they like the way I look. It's kind of like a fashion statement now to some people, but it's a lifestyle to others.
Read the complete interview JR Smith did with the New York Times, here.