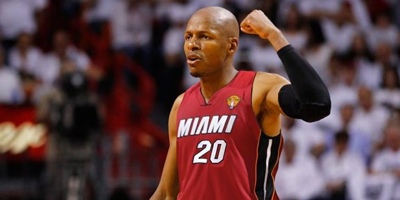 Ray Allen will take less money for a chance at another NBA championship — with the Miami Heat.
#HeatNation please welcome our newest teammate Ray Allen #Wow #JesusShuttlesworth

— LeBron James (@KingJames) July 7, 2012
Allen told the Heat Friday that he intends to accept their contract offer which will end his his Boston run after after five seasons. Allen turned down twice the money to take his all-time best three-point shooting talents to South Beach.
Its 2:30am in London and I was just woken up with great news.Welcome to the family #20!!

— Micky Arison (@MickyArison) July 7, 2012
Miami could only offer Allen the mini mid-level, worth about $3 million a year.