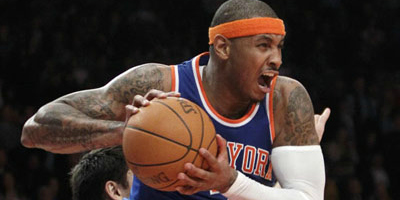 If you happen to be a Knicks fan, Jeremy Lin blowing up the spot couldn't have come at a better time. Why? Cause Carmelo Anthony and his team high 22.3 ppg will be in fancy street clothes for possibly the next two weeks due to injury.
Apparently the harmless looking strained right groin injury Melo suffer early against the Utah Monday night. Turned out to be much more upon further evaluation and the Knicks All-Star forward could miss up to eight games.
The Knicks will also be without Amare Stoudemire for an undetermined amount of time as they try for their third straight win Wednesday against the Wizards. Melo has already missed three games with a variety of injuries this shortened season.