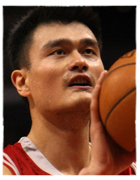 To the surprise of everybody execpt for his gigantic repeatedly fractured feet, Yao Ming has retired from the league after only 9 seasons that could rob him of his place among the all-time greatest centers that ocupided the pivot.
"On July 20, we will hold a press conference in Shanghai to release the future plans of Yao Ming's career," the statement said. According to Yahoo, the veteran had informed the Rockets, the league office in New York and NBA China of his decision to leave the game. And the league's official website published a story headlined: "Rockets' center Yao retires".
Even if you only liked Yao Ming for his Visa commercials, he was a force in the middle when he was available and his career averages of 19 points, 9.3 rebounds and 1.9 blocks in 486 games proves that. However the fact that he only played in just five games over the past two seasons as a result foot and ankle problems despite multiple surgeries to repair the damage opposes that though too.
At any rate, the impact he had on the game globally can't be denied, and its a sad day for the league who is already trying to retain their diverse fan base in the mist of a lock out. You will be missed Yao Ming.
H/N China Daily