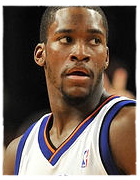 The New York Knicks say guard Toney Douglas had surgery on his right shoulder and could be sidelined four months.
The procedure Wednesday was to repair a torn labrum. The team says the surgery, performed by team orthopedist Dr. Answorth Allen at the Hospital for Special Surgery, was successful.
The Knicks said the expected recovery time was 12 to 16 weeks.
Coach Mike D'Antoni said during the playoffs that Douglas' shoulder was bothering him. The reserve guard was forced to start the final three games of a first-round sweep against Boston because starter Chauncey Billups was out with a left knee injury, and Douglas shot only 3 for 11 for six points in the finale.