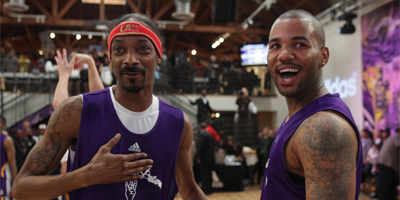 All-Star weekend had some pretty cool off track events and this was definitely one of them.
Bringing basketball to the hardcourt from the street, adiHOOP was an exclusive celebrity, musician and artist 3-on-3 tournament that took place over the weekend. Featuring Snoop Dogg's "West Coasters" team (Snoop, Game and Chris Brown) hip-hop acts Kidz in the Hall and U-N-I and other music, sneaker and art stars. It looked hella fun cause adidas knows how to have a good time. Fo Shizzle!
Soy milk drinking Ken Jeong of "Fast Don't Lie" fame, Darryl McDaniels from Run DMC and Big Boy from Power 106 in LA served as emcees in the all-day tournament while DJ Neil Armstrong provided the beats. Serge Ibaka, Jrue Holiday, Wesley Johnson, Toney Douglas and Matt Barnes were also in attendance to see the action and witness Snoop's "West Coasters" take home the title.
Like I said, this looked hella fun!