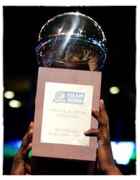 Four first-time contestants vie for the title: the Los Angeles Clippers' Blake Griffin, the Milwaukee Bucks' Brandon Jennings, the Oklahoma City Thunder's Serge Ibaka and the Washington Wizards' JaVale McGee.
Each of the four participants will be featured in a special online video series that will give fans an inside look at their preparations for the event. The series, "Sprite Slam Dunk: Countdown to the Contest," will feature each participant matched up with a dunk coach who will work with his respective player to create and practice some of the electrifying dunks that will take place during the event in Los Angeles.
Griffin will match up with TNT analyst and two-time Slam Dunk participant (1990, 1991) Kenny Smith; Jennings will practice with NBA Legend Darryl Dawkins; McGee will work with NBA TV/TNT analyst and five-time NBA All-Star Chris Webber; and Ibaka will prepare with Thunder teammate and 2009-10 NBA scoring champion Kevin Durant. Each episode also will feature a "dunk selection ceremony" where the participants will choose which dunks they want to keep and which they decide to send to "the bench."
Fans will be able to keep up with the latest development in the series, which will tip off tomorrow and will run through the week of the event, by viewing the latest weekly episodes at NBA.com/Dunk.
Fans will again have the opportunity to determine the winner of the Sprite Slam Dunk as part of the "They Dunk. You Decide" campaign, which debuted as part of the event in 2008.