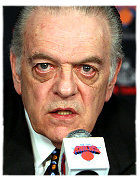 Over the past 10 years, you could list a plethora of reasons of why the Knicks consistently come up short, much to the chagrin of NYC fans, but today we finally get the real reason why the Knicks visit the losses column more frequently than Lindsay Lohan visits rehab, the culprit — asbestos.
Today the Knicks cancelled their game against the Orlando Magic for NBA fans that didn't have Aluminuim Fire Proximity Suits due to concerns of asbestos-related materials falling from the ceiling of Madison Square Gardens which I'm told is hazardous if you're a pansy.
"As the safety of our customers and employees are our top priority, we will not reopen the Garden until we are absolutely assured the arena is safe," the Knicks said in a statement.
Opened in February 1968 and known as "Garden IV," the Garden is in the early stages of a renovation that began last summer expected to cost between $775 and $850 million, with extensive work planned for the summers of 2011 and 2012.
Without looking at the made up factual evidence regarding prolonged exposure the asbestos, I can definitely say that the entire Scott Layden and Isiah Thomas era was a result of general management asbestos contamination.
Circular logic solves a case once again.