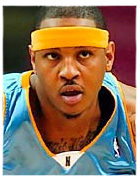 The Nuggets didn't want to believe that Carmelo Anthony would bolt when he became a free agent next summer, but the fear of Denver being "Chris Boshed" is getting real for their front office peeps and for the first time. The Nuggets are open to the possibility of trading Melo for the right deal instead of losing him for nothing.
"I'm not sure how soon, but I do think they're going to trade him [between now and February]," said one rival GM. Said another source briefed on Denver's plans: "There's no doubt they are working on it. Eventually they're going to pull the trigger."
The Nuggets still remain hopeful that Anthony will sign the $65 million extension they have in place, but if Melo signs on to stay with the Nuggets, I'll eat my hat.
H/N ESPN