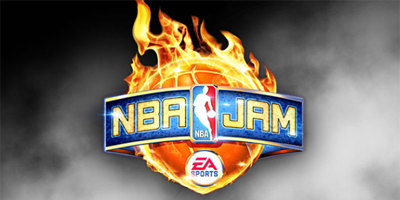 The new version of NBA Jam drops October 5th for the Xbox 360, Wii and Playstation 3 systems. Plus mini versions of the game will be included in copies of the new NBA Live game, re-titled NBA Elite. At long last, the game I spent a gazillion dollars on in the arcade as a kid can be mine with Magic Johnson as a playable character.
After tallying the votes, Electronic Arts finally released the complete rosters for both the eastern and western conference teams. In short, you're going to love the selections! Not only will you be able to BOOM-SHAKA LAKA with current NBA stars, you'll be able to do it with NBA legends of the past too. Each team will feature one or two playable legends on your favorite teams roster and if they don't have a legend available, you can play as the teams mascot instead. Every generation can dig that!
Enough with the rambling, after the jump see the complete new NBA JAM rosters.
Atlanta Hawks
Players: Joe Johnson, Josh Smith, Mike Bibby
Legends: Dominique Wilkins, Spud Webb
Boston Celtics
Players: Kevin Garnett, Paul Pierce, Rajon Rondo, Ray Allen
Legends: Larry Bird, Kevin McHale
Charlotte Bobcats
Players: Gerald Wallace, Stephen Jackson, Tyrus Thomas
Mascot: Rufus Lynx
Chicago Bulls
Players: Derrick Rose, Luol Deng, Joakim Noah, Carlos Boozer
Legends: Scottie Pippen, Dennis Rodman
Cleveland Cavaliers
Players: Mo Williams, Antawn Jamison, Anderson Varejao
Legends: Mark Price, Brad Daugherty
Dallas Mavericks
Players: Dirk Nowitzki, Jason Kidd, Caron Butler
Mascot: Mavs Man
Detroit Pistons
Players: Richard Hamilton, Rodney Stuckey, Charlie Villanueva, Ben Gordon
Legends: Isiah Thomas, Bill Laimbeer
Denver Nuggets
Players: Carmelo Anthony, Chauncey Billups and Kenyon Martin
Mascot: Rocky The Mountain Lion
Golden State Warriors
Players: Monta Ellis, David Lee, Stephen Curry and Andris Biedrins
Legends: Tim Hardaway and Chris Mullin
Houston Rockets
Players: Kevin Martin, Yao Ming and Trevor Ariza
Legends: Hakeem Olajuwon and Kenny Smith
Indiana Pacers
Players: Danny Granger, Mike Dunleavy, T.J. Ford
Legends: Detlef Schrempf
Los Angeles Clippers
Players: Baron Davis, Blake Griffin and Chris Kaman
Legends: Danny Manning
Los Angeles Lakers
Players: Kobe Bryant, Pau Gasol, Ron Artest and Lamar Odom
Legends: Magic Johnson and James Worthy
Memphis Grizzlies
Players: O.J. Mayo, Zach Randolph and Rudy Gay
Legends: Bryant Reeves
Miami Heat
Players: Dwyane Wade, LeBron James, Chris Bosh
Legends: Glen Rice, Rony Seikaly
Milwaukee Bucks
Players: Michael Redd, Andrew Bogut, Brandon Jennings, Corey Maggette
Mascot: Bango The Buck
Minnesota Timberwolves
Players: Al Jefferson, Kevin Love, Jonny Flynn and Michael Beasley
Legends: Chuck Person
New Jersey Nets
Players: Devin Harris, Brook Lopez, Courtney Lee
Legends: Kenny Anderson, Drazen Petrovic
New Orleans Hornets
Players: Chris Paul, David West and Peja Stojakovic
Legends: Larry Johnson
New York Knicks
Players: Al Harrington, Danilo Gallinari, Amare Stoudemire
Legends: Patrick Ewing, John Starks
Oklahoma City Thunder
Players: Kevin Durant, Jeff Green and Russell Westbrook (players);
Mascot: Rumble The Bison
Orlando Magic
Players: Dwight Howard, Vince Carter, Rashard Lewis
Legends: Nick Anderson, Scott Skiles
Philadelphia 76ers
Players: Andre Iguodala, Elton Brand, Evan Turner
Legends: Julius Erving, Allen Iverson
Phoenix Suns
Players: Steve Nash, Grant Hill and Jason Richardson
Legends: Dan Majerle and Kevin Johnson
Portland Trail Blazers
Players: Brandon Roy, LaMarcus Aldridge and Greg Oden
Legends: Clyde Drexler
Sacramento Kings
Players: Tyreke Evans, Carl Landry, Jason Thompson and DeMarcus Cousins
Legends: Mitch Richmond
San Antonio Spurs
Players: Tim Duncan, Tony Parker and Manu Ginobili
Legends: David Robinson and George Gervin
Toronto Raptors
Players: DeMar DeRozan, Jarrett Jack, Andrea Bargnani
Mascot: The Raptor
Utah Jazz
Players: Deron Williams, Andrei Kirilenko and Mehmet Okur
Legends: Karl Malone and John Stockton
Washington Wizards
Yi Jianlian, Andray Blatche, Gilbert Arenas, John Wall (players);
Legends: Manute Bol
Mascot: G-Wiz