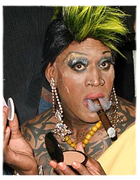 Awesome! Thanks to Dennis Rodman, LeBron James changing his signature to include the #6 isn't the most exciting news of the past few days. Thank Jebus! According to the New York Post, Rodman took six girls to his bedroom with a cordless microphone switched on in his pocket and party people in the Hamptons got a little listen of just how the Demolition Man does it.
Promoters at the Hotel Indigo in Hampton Bays were astonished when they heard Rodman talking dirty over the music at their pool party in the early hours of Monday morning. A source told us, "Rodman had quite a lot to drink and had been making shout-outs on the mike. He headed up to his room with six girls. Then, the next thing you could hear through the speakers downstairs was Rodman describing in full sexual detail what he wanted to do to them. Organizers pulled the plug before it got any dirtier." The source added the party was still packed with guests, including "Entourage" star Kevin Dillon. Rodman's agent, Darren Prince, confirmed, "He was unaware of the microphone being turned on . . . I do know he had a few drinks in him."
If I had a dollar for everytime this happened to me, I'd be a gazillionaire. In the past, Rodman claims to have slept with over 2000 women, that's a lot of lovin' — and penicillin. Thanks to our good friend math, I can tell you that with romantic tryst in multiples of six. That number is totally achievable in one calendar year. Keep living the dream Rodman!