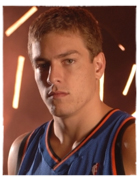 David Lee is headed from the New York Knicks to the Golden State Warriors in a sign-and-trade deal, the all-star forward's agent said Thursday.
Mark Bartelstein said Lee will get a six-year, US$80-million contract. The Knicks will receive forwards Anthony Randolph, Kelenna Azubuike and Ronny Turiaf.
Lee has been the Knicks' most popular and productive player under coach Mike D'Antoni, but the team wouldn't commit to signing him so it could preserve enough salary cap room to afford two maximum salary players.
The Knicks gave one of those contracts to Amare Stoudemire, who signed Thursday and plays the same position as Lee, then agreed to work on the sign-and-trade so Lee could earn a sixth year in the deal.

"There was a lot of different ways this could have gone and I needed them to help," Bartelstein said. "They were great about it."
Lee was likely the best free agent left on the market. He averaged 20.2 and 11.7 rebounds last season and has developed a reliable outside shot in recent years.
The Knicks could have lost him last summer, but Lee didn't receive an offer in a market where many teams were saving money for this free agency period. But he had plenty of options this time around.
Lee spent all five years in New York, where he was respected for playing hard on losing teams.
"David loved his time in New York," Bartelstein said. "They gave David an incredible opportunity the last few years."
Randolph was Golden State's first-round pick in 2008 but fell out of favour with coach Don Nelson and played only 33 games last season. Azubuike was limited to just nine games before a season-ending knee injury.