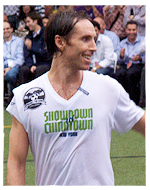 I don't have an agent, but if I did I would fire him today for the one Steve Nash has.
Fresh off the Lakers ending the Phoenix Suns year, things are looking up for Steve Nash as CBS announced that self-described "football freak" Nash will be doing a series of video segments from South Africa for the 2010 World Cup.
"This project with CBSSports.com combines two of my passions off the basketball court, the beautiful game known internationally as "football" and video production," said Steve Nash. "I look forward to shooting some memorable pieces from South Africa and giving fans a unique and sometimes humorous look at the World Cup."
Nash was actually born in Johannesburg, South Africa before moving to Canada as a youngster so this will also be a bit of a home-coming for the former 2-time NBA MVP. Part of his duties in South Africa will include: posting videos on youtube.com/CBSSports, interacting with fans via Facebook (facebook.com/CBSSports) and tweeting on Twitter (twitter.com/CBSSports).
I so can't wait to see these videos!