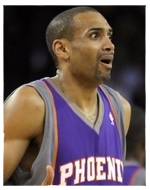 The Knicks have enough room to sign two max contract players this summer, but if comes down to a bidding war. Will the Knicks use the offer of 'loads of women' to get an edge on the competition like they did when Grant Hill was a free agent?
In 2000 when Hill was on the open market, the Knicks pulled out all the stops in an attempt to sign him. Everything was going swimmingly until a video testimonial from the actor Leon, who championed New York's night life saying "Come to New York and you will have loads of women." One hitch, his wife Tamia was beside him watching the video too and as Hill says "She wasn't smiling." Oops!
Given that this was during the Scott Layden era, this blunder isn't a shocker and Hill ended up signing with the Orlando Magic and the Knicks began to really fall apart. It's safe to say that Leon hasn't been apart of any promotional pitches since.