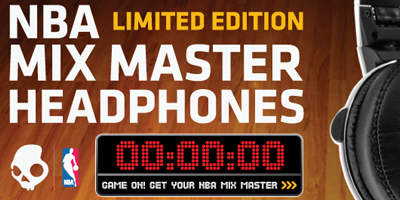 Just in time for the 2010 NBA Playoffs, today Skullcandy is dropping a limited run of MIX MASTER NBA Player Series Headphones to commemorate their official partnership with the NBA. Skullcandy will release six Player Series headphones at Apple retail stores within select markets.
Each headphone will be 1 of 100 to truly make this a limited edition piece. Only twenty headphones per player will also be available on Skullcandy.com to the lucky few who get there first. The collection includes signature headphones for Derrick Rose, David Lee, Dwyane Wade, LeBron James, Kevin Garnett, and Kobe Bryant.
The Mix Master is a gold-plated game changer coming complete with twin audio inputs, mute button and dual channel cue control to custom fit whatever beats you might be dropping. Swanky!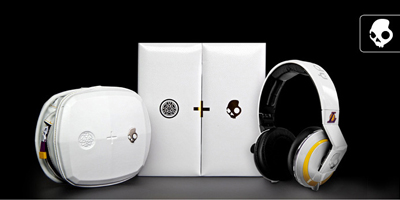 The Coil Cable provides the perfect function for any action behind the turntables; while the straight cable lets you hook up to whatever audio device you happen to be rocking.
Act / Relocate fast! These will only be available in Miami, Boston, Los Angeles, Chicago and New York.